The Doomsday Clock Updated
The Bulletin for Atomic Scientists, as every January since 1947, has revealed its 2023 "Doomsday Clock" prediction this morning, Tuesday, Jan. 24. The stated purpose is to warn the public about how close humanity is to the brink of worldwide destruction. It is given as a measure of man's progress toward the end of time.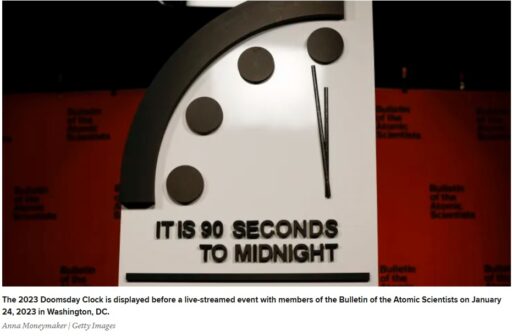 Doom is interpreted as 'judgment'. It comes from the Hebrew word 'dan' which means 'judge'. Doomsday then is the Day of the Last Judgment at the end of the world or age or 'Judgment Day'. Who shall stand?
Today's Headline: "Putin's nuclear threats move Doomsday Clock closest ever to Armageddon, atomic scientists say:" But what or where is Armageddon?
"Take heed to yourselves, lest at any time your hearts be overcharged with surfeiting, and drunkenness, and cares of this life, and so that day come upon you in unawareness. For as a snare shall it come on all them that dwell on the face of the whole earth."

Jesus Christ – Luke 21:34-35
…