"In the annals of wartime savagery against the Jews, there was no group as sadistic as the Croatian Ustashi."

IBM and the Holocaust by Edwin Black, © 2001
The Vatican aided and abetted the most sadistic murderers of WWII, the Croatian Ustashi and their leader Ante Pavelic. Following Hitler's invasion of Yugoslavia, the Catholic Croats of the Ustaše rose up against the Jews and Orthodox Christian Serbs. The church saw the situation in Croatia as an opportunity to spread Catholicism in the Balkans. Pope Pius XII personally met with Ante Pavelic, and supported his efforts to eliminate Jews and Orthodox Serbs.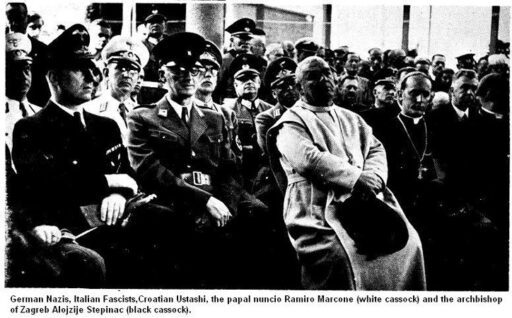 "Like the Nazis, the Ustaše/Ustashi deemed Jews, Romani, and Slavs to be sub-humans. They endorsed the claims from German racial theorists that Croats were not Slavs but a Germanic race. Their genocides against Serbs, against Jews, and against Romani were thus expressions of Nazi racial ideology"

Wikipedia
The Vatican's support for the Catholic Croatian Ustashi was ongoing throughout the Holocaust. It began with a public endorsement by Eugenio Pacelli (Pope Pius XII) in 1939. Before the genocide of Serbs and Jews began, Pacelli colluded with the Archbishop of Croatia, Alojzije Stepinac and with the Croatian fascist leader Ante Pavelic. After the war, the Vatican helped hide Pavelic and his officers of the Ustasan Army. The church then arranged for the fugitives' safe passage through their ratline to evade justice.
…