The Coronation Ceremony for the new king in Great Britain will take place in just a few days on May 6, 2023. It is an occasion celebrated with great pomp and ceremony.
The Crown, the anointing, the symbols of heraldry, the hymns and the precious jewels all help to confirm the Israelite origins of the people of Britain and their brethren of the United States colonies. They are symbolized as the twin sons of Joseph, son of Jacob, son of Isaac, son of Abraham, having the Lion of the Tribe of Judah to reign over them as king. The name, 'Saxon', means Isaac's-sons.
The legend of the 'Sword in the Stone' or Excalibur is the mythical sword of King Arthur associated with the rightful sovereignty of Britain. Whosoever can pull the Sword from the Stone is deemed to be the rightful heir to the throne and the crown. This story is also based on a story of the Biblical Deliverer and Lawgiver, Moses.
"Some of the symbolism within the coronation ceremony for British monarchs perpetuates the ancient Roman Catholic monarchical ideas. This ceremony is nearly entirely based upon that of the Coronation of the Holy Roman Emperor."

Wikipedia
All the pomp comes in from the Roman Empire, but the anointing of King David was quite simple. So, let's separate the two, Israel and Rome, and see what these things mean in reality. In the many recent articles and videos covering this subject, references to King Solomon and 'God's Chosen' have been frequently heard. So, what were the instructions of the LORD God made to his father, King David, through Moses?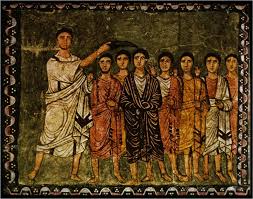 ---
…