There are two Roman holidays being celebrated on this day, but where did they come from and what do they mean? The Prophets of God have been warning Israel for a very long time how they provoke God to anger by participating in such "holy days."  Let's take a look and see why:
Ferr-agosto is a Roman holiday celebrated in Italy on the "ides of August." It coincides with the major Roman Catholic Religion feast of the "Assumption of the Virgin." After a 2-week fast, it's a time for Italians to go to the beach before summer ends.
Ferragosta comes from the Latin, Feriah Augusti (the festivals of the Emperor, Caesar Augustus, 63 BC – 14 AD) which was introduced back in 18 BC.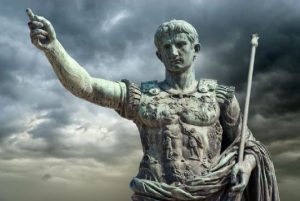 Augustus' predecessor, Julius Caesar had been elected Pontifex Maximus in 63 BCE. Augustus inherited the role about the time of Christ. The Pontifex Maximus, or the Roman high priest, was assumed by the Roman Catholic Pontiff.