What is the true Sabbath and how do we keep it?
"Let us therefore be in awe/reverence, lest a promise being left us of entering into His Rest, any of you should come short of it… There remains, therefore, a keeping of a Sabbath to the people of God."   Hebrews 4
Many argue that the day of rest called for by God is Saturday (the seventh day of the week) or Sunday (the first day of the week). God called for His people to keep the weekly Sabbath, the seventh day, as a token to remember the Sabbath Day to keep it holy unto Him. But the true Sabbath is much bigger than that. It is written, "Don't be ignorant of the one thing: One day to the LORD is as a thousand years" (2 Peter 3:8), and "in six days, that is six thousand years all things will be accomplished" (Barnabus 13:4-5). Genesis 2 tells us that God finished His work on the sixth day and on the seventh day He rested and sanctified that day to be kept to Him.
The Party's Over, by The Christian Choristers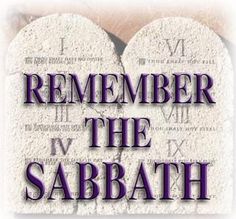 …