Vain Repetitious Prayers
While the 'Lord's Prayer' continues to be mindlessly recited in congregations who gather in their 'houses of worship," not many know the origin or the meaning of the prayer. Jesus' preliminary instruction on how to pray to our Father in Heaven is this:
"When you pray, you shall not be as the hypocrites are: for they love to pray… that they may be seen of men… And don't use vain repetition as the heathen do: for they think that they shall be heard for their much speaking. Don't you be like them, for your Father knows the things you have need of before you ask Him. Therefore you should pray in this manner:
The LORD's Prayer
Our Father which art in Heaven, Holy is Your Name. Your Kingdom come. Your Will be done on earth, as it is in Heaven. Give us this Day our daily bread. And forgive us our trespasses, as we forgive those who have trespassed against us. And lead us not into temptation, but deliver us from evil: For Yours is the Kingdom, and the Power, and the Glory, for ever. Amen." Matt 6:1-13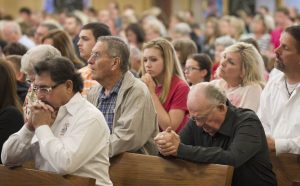 Israel Slaves in Egypt
In ancient times the Israelites were stealthily put into the hard bondage of having all their time, labor and children consumed providing 'defense' for the government of Pharaoh, king of Egypt. They cried to God to deliver them from their oppression. That's when God called on Moses to be a Deliverer of His people out of the hand of Pharaoh while God sent many calamities upon Pharaoh and Egypt for their mistreatment of His people.
Moses delivers God's People, Israel
The LORD God said to Moses, "I am the God of your fathers, the God of Abraham, the God of Isaac, and the God of Jacob. I have surely seen the affliction of My people which are in Egypt, and have heard their cry by reason of their taskmasters; for I know their sorrows; And I am come down to deliver them out of the hand of the Egyptians, and to bring them up out of that land unto a good land and a large, unto a land flowing with milk and honey… Now therefore, behold, the cry of the children of Israel is come unto Me: and I have also seen the oppression wherewith the Egyptians oppress them. I will send you to Pharaoh, that you may bring forth My people, the children of Israel, out of Egypt." Exodus 3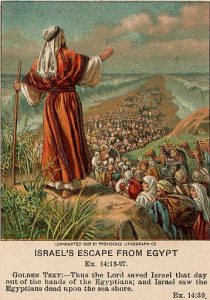 Stephen's Testimony
Powerfully in Acts chapter 7, Stephen, the first martyr after Christ, recounts this very scenario starting from Abraham and the promises made to him regarding his offspring all the way through to the Prophets, King David and his son Solomon. He was subsequently stoned to death for his testimony. In verse 37 he sites Deuteronomy 18:15-22: 'This is that Moses, which said to the children of Israel regarding the latter days, 'A prophet shall the LORD your God raise up unto you of your brethren, like unto me; him shall you hear.' Then in verse 39 he points out that our fathers in their hearts turned back to the ways of Egypt. Why else would they need another 'Deliverer' to come once again to deliver them from an oppressive ruler?
Signs of the End Times
In Matthew 24, which pertains to 'Signs of the End', verse 30, Jesus said this, "And then shall appear the sign of the Son of Adam in heaven: and then shall all the tribes of the earth mourn, and they shall see the Son of Adam coming in the clouds of Heaven with power and great Glory. And he shall send his angels with a great sound of a trumpet, and they shall gather together his Elect from the four winds, from one end of Heaven to the other."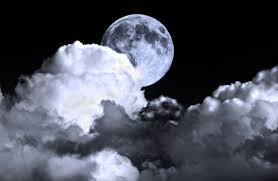 The War Rule in the Dead Sea Scrolls reveals that the 'angelic host' come with the 'King of Glory.' and are "as clouds, clouds of dew and…showers of rain shedding righteousness on all that grows on the earth."
Parable of the Wheat and the Tares Explained
Matthew 13:38-41 gives the solution to the parable of the 'Wheat and the Tares' (24-30) "The field is the world; the good seed are the children of the Kingdom; but the tares are the children of the Wicked One; The enemy that sowed them is the devil; the harvest is the end of the world/age; and the reapers are the angels. As the tares are gathered and burned in the fire; so shall it be in the end of this world. The Son of Adam shall send forth his angels, and they shall gather out of his Kingdom all things that offend, and them which do/work iniquity;"
God's People will be Delivered at the End!
"For I would not, brethren, that you should be ignorant of this mystery… that blindness in part is happened to Israel, until the fullness of the nations has come. And so all Israel shall be saved: as it is written, There shall come out of Sion/Zion the Deliverer, and shall turn away ungodliness from Jacob: For this is My Covenant unto them, when I shall take away their sins." Romans 11:25-27; Isaiah 59:20 And Deliver them from Evil!
Disasters upon the Earth – Beginning of Sorrows
And finally, in 2 Esdras from the Apocrypha, it states, "Behold, disasters are shot forth, and they will not return until they come upon the earth. A fire is lit, and will not be put out, until it consumes the foundations of the earth. Just as an arrow shot by a strong archer does not come back, so the disasters which shall be shot at the earth will not turn back. "Alas for me! Who will deliver me in those days?" It is the beginning of sorrows, when there will be great mourning; the beginning of famine, when many will perish; the beginning of wars, when Powers will fear; the beginning of disasters, when all will tremble. What will they do in these circumstances, when disasters come? Behold, famine and pestilence and distress and anguish are sent as scourges to correct men." 2 Esdras 16:14-19 (Matthew 24:4-8)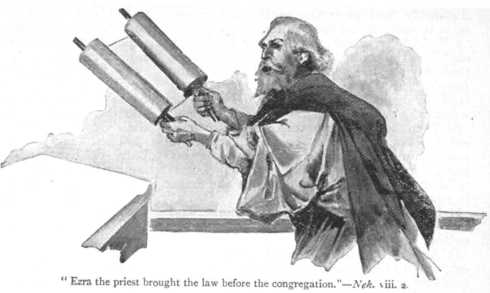 "But listen to these things, and understand them, O you servants of the LORD! Behold, it is the Word of the LORD; receive it, don't disbelieve the things of which the LORD says, Behold, disasters are approaching and they are not delayed." 2 Esdras 16:35-37
"Behold, God is the judge; fear/reverence Him. Give up your sins, and forget your iniquities, and never practice them again; then God will lead you forth and deliver you from all distress/tribulation." 2 Esdras 16::67
Time of Tribulation
"Listen, My Elect," says the LORD. "Behold, the days of Tribulation are here, and I will deliver you from them. Don't fear or doubt, for God is your guide. And you who keep My Commandments and precepts," says the LORD God, "don't let your sins drag you down, or your wickedness prevail over you. Alas for those who are bound by their sins and covered with their wickedness are as a field overgrown with underbrush, and its path so covered with thorns/tares that no one can get through. It is shut out, and left to be consumed by fire." 2 Esdras 16:74-78 (Matt 13:38-41)
Jesus said in John 16:33 "…In the world you shall have Tribulation, but be of good cheer, I have overcome the world." And in 17:15 "I don't pray/ask that You should take them out of the world, but that You should keep them from the evil."
"And it shall come to pass in that Day, that the LORD shall set His hand again the second time to recover the Remnant of His people, which shall be left, from Assyria, and from Egypt …  And there shall be an highway for the Remnant of His people, which shall be left, from Assyria; like as it was to Israel in the day that he came up out of the land of Egypt." Isaiah 11:11, 16
Deliver us from Evil!
Now when you pray, pray like this:
My Father who is in Heaven, Holy is Your Name. Your Kingdom come. Your Will be done on earth, as we see it in Heaven. Give us this day our daily bread. And forgive us our trespasses, as we forgive those who have trespassed against us. And lead us not into temptation, but deliver us from evil: For Yours is the Kingdom, and the Power, and the Glory, for ever. Amen." Matthew 6:1-13
If you've gotten this far and God's Word is precious to you and you want to learn more, register with theFirmament.org If you have already registered, come back often for more content to turn your heart toward God and learn of Him, for He is the God of Salvation and there is no other!