God speaks in mental pictures. If you consider the relationship between a man and a woman as a similitude of the relationship between God and His people, you can understand how He feels when His woman gives her good stuff to another.  In many different places, God makes mention of Israel as His wife and He is as her husband.
In Ezekiel, chapter 23, Israel – the northern kingdom of Samaria is spoken of as Ahola and her sister Judah is as Aholibah.  First Ahola committed whoredoms with the Assyrians and she defiled herself with idols.  Hence; idolatry is equated with committing adultery against God.  When Aholibah /Judah saw this, she did more in her whoredoms than her sister.
Both of these sisters committed whoredoms in that they turned away from their husband and doted after other gods.  For this reason, their God gave them over to their lovers and their ways.  For this reason, they have been oppressed and given over to all manner of suffering.  But if they return to Him, He has promised to take them back.
They say, if a man put away his wife and she goes from him and become another man's, shall he return unto her again? Shall not that land be greatly polluted? But you have played the harlot with many lovers; yet return again to me, says the Lord.
Lift up your eyes unto the high places, and see where you have not been lain with.  In the ways you have sat for them as the Arabian in the wilderness; and you have polluted the land with your whoredoms and with your wickedness.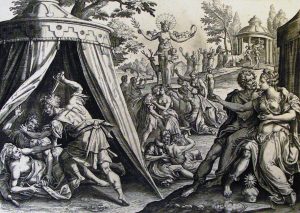 American Woman, by Lenny Kravitz
For this reason, the showers have been withheld, and there has been no latter rain; and you have had a whore's forehead, you refuse to be ashamed.
Have you seen that which backsliding Israel has done? She is gone up upon every high mountain and under every green tree, and there has played the harlot.
And after she had done all these things, I said, 'You turn unto Me. But she would not return.  And her treacherous sister Judah saw it.
And I saw, when Israel committed adultery and I put her away and have given her a bill of divorcement; that her treacherous sister Judah feared not, but also went and played the harlot.
And through her whoredom she defiled the land, and committed adultery with sticks…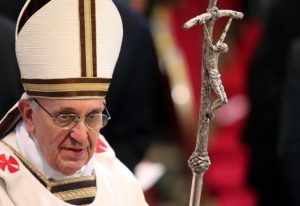 and stones: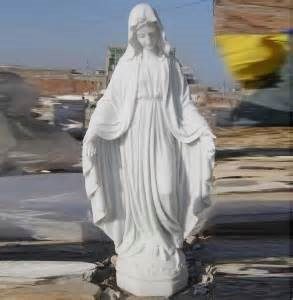 This is what the LORD says:
Return, you backsliding Israel; and I will not cause My anger to fall upon you: for I am merciful, says the LORD, and I will not keep anger forever.
Only acknowledge your iniquity, that you have transgressed against the LORD your God, and have scattered your ways to the strangers under every green tree, and you have not obeyed my voice, says the LORD.
The LORD says; Turn, O backsliding children, for I am married to you: and I will take you, and I will bring you to Zion:
And I will give you pastors according to My heart, which will feed you with knowledge and understanding.
In those days the House of Judah will walk with the House of Israel, and they will come together.
The LORD says: Surely as a wife treacherously departs from her husband, so have you dealt treacherously with Me, O House of Israel.
A voice was heard upon the high places, weeping and supplications for the children of Israel: for they have perverted their way, and they have forgotten the LORD their God.
Return, you backsliding children, and I will heal your backslidings.  Behold we come to you; for you are the LORD our God.  Jer 3:1-24
I am the LORD, I do not change; therefore, you children of Jacob/Israel are not consumed.  Even from the days of your fathers you have gone away from My ordinances and have not kept them. The LORD says: Return to Me, and I will return to you. But you said, how shall we return? Mal 3:6-7
If you thirst for that knowledge and understanding, if you want to return to God and learn of His Commands and His Ordinances which we must do in order to live, go to:
and sign up
THE TIME IS NOW TO TURN AWAY FROM TRANSGRESSION AND RETURN TO GOD