"My people have been lost sheep: their shepherds have caused them to go astray… they have forgotten their resting-place."

Jeremiah 50:6
God's Word to the Righteous:
"Gather My Holy Ones/Elect together to Me; those that will make a Covenant with Me by an offering. And the heavens shall declare His righteousness: for God Himself is Judge. Hear, O My people, and I will speak; O Israel, and I will testify before you: I am God, even your God. Offer to God thanksgiving; and pay your vows to the most High:  And call upon Me in the Day of Tribulation: I will deliver you, and you shall glorify Me." Psalm 50
Let it Rain, by Michael W. Smith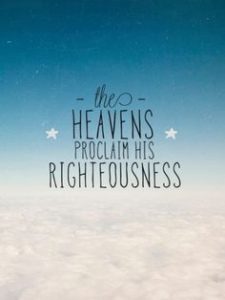 God's Word to the Wicked
But to the wicked God says, What have you to do to declare My statutes, or that you should take My Covenant in your mouth?  Seeing you hate instruction, and cast My words behind you. You sit and speak against your brother; you slander your own mother's son.  These things you have done, and I kept silence; you thought that I was altogether such a one as yourself: but I will reprove you, and set them in order before your eyes.  Now consider this, you that forget God, lest I tear you in pieces, and there be none to deliver.
Salvation to the Righteous
"Whoso offers praise glorifies Me: and to him that orders his conversation aright I will show the salvation of God." Psalms 50
God's promise to the Righteous:
"Behold, I will send My Messenger, and he shall prepare the way before Me: and the Lord, whom you seek, shall suddenly come to his temple, even the Messenger of the Covenant, whom you delight in: behold, he shall come, says the LORD of hosts. But who may abide the day of his coming? and who shall stand when he appears? for he is like a refiner's fire, and like fullers' soap: And he shall sit as a refiner and purifier of silver: and he shall purify the sons of Levi, and purge them as gold and silver, that they may offer to the LORD an offering in righteousness.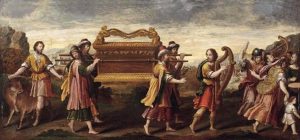 God is Judge, A Witness against the Wicked
"Then shall the offering of Judah and Jerusalem be pleasant to the LORD, as in the days of old, and as in former years. And I will come near to you to judgment; and I will be a swift witness against the sorcerers, and against the idolaters/adulterers, and against false swearers, and against those that oppress the hireling of his wages, the widow, and the fatherless, and that turn aside the stranger from his right, and do not reverence Me, says the LORD of hosts."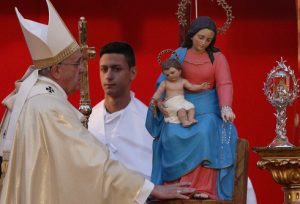 Windows of Heaven
"For I am the LORD, I do not change; therefore you children of Jacob are not consumed. Even from the days of your fathers you have gone away from My ordinances, and have not kept them. Return to Me, and I will return to you, says the LORD of hosts. But you said, Wherein shall we return? Will a man rob God? Yet you have robbed Me. But you say, Wherein have we robbed You? In tithes and offerings. You are cursed with a curse: for you have robbed Me, even this whole nation. Bring all the tithes into the storehouse, that there may be food in My house, and test Me now herewith, says the LORD of hosts, if I will not open you the windows of heaven, and pour out a blessing on you that there shall not be room enough to contain it."         Mal 3:1-10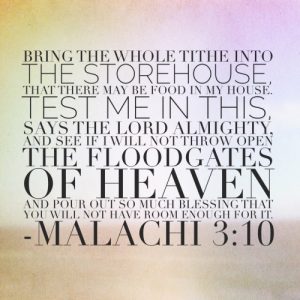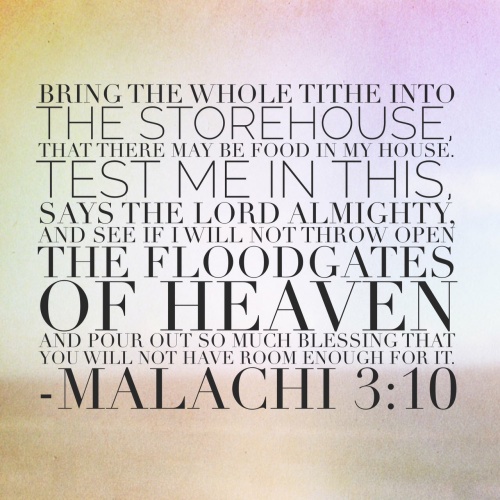 "He commanded the clouds from above, and opened the windows of heaven… And rained down manna upon them to eat, and Man did eat Angels' food…"  Psa 78:23-25
"Our fathers did eat manna in the desert; as it is written, He gave them bread from heaven to eat. Then Jesus said to them, Truly, Truly, I say to you, Moses did not give you that bread from heaven; but my Father gives you the true bread from heaven." For the bread of God is he which comes down from heaven, and gives life unto the world.  Then they said to him, Lord, evermore give us this bread. And Jesus said to them, I am the bread of life: he that comes to me shall never hunger; and he that believes/trusts in me shall never thirst."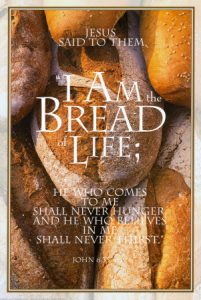 Thy Will be Done! Give us this Day our Daily Bread
"All that the Father gives me shall come to me; and he that comes to me I will in no wise cast out. For I came down from heaven, not to do my own will, but the Will of Him that sent me. And this is the Father's Will which has sent me, that of all which He has given me I should lose nothing, but should raise it up again at the last day. And this is the Will of Him that sent me, that every one which sees the Son, and believes/trusts in him, may have everlasting life: and I will raise him up at the last day." John 6:31-40
"It is the Spirit that quickens: the flesh profits nothing: the Words that I speak to you, they are spirit and they are life." John 6:63
"Jesus answered and said, I am not sent but to the Lost Sheep of the House of Israel." Mat 15:24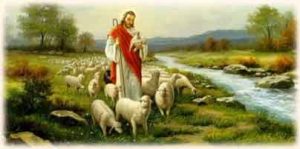 "Give ear, O ye heavens, and I will speak; and hear, O earth, the words of My mouth. My doctrine shall drop as the rain, My speech shall distill as the dew, as the small rain upon the tender herb, and as the showers upon the grass: Because I will publish the Name of the LORD: ascribe greatness unto our God. He is the Rock, His work is perfect: for all His ways are judgment: a God of truth and without iniquity, just and right is He." Deu 32:1-4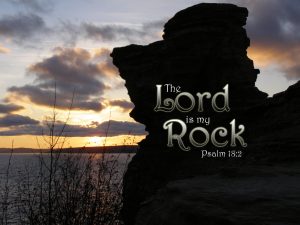 God's Promises to rebuke His Adversary
"And I will rebuke the devourer for your sakes…" Malachi 3:11-12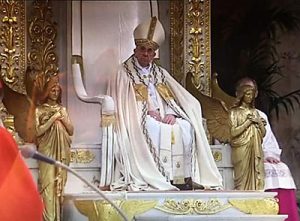 "Who is adverse to God and exalts himself above all that is called God, or that is worshiped; so that he sits in the temple of God proclaiming himself that he is God!"  2 Thess 2:4
"For you have said in your heart "I will ascend into heaven, I will exalt my throne above the stars of God; I will sit also upon the mount of the congregation… I will ascend the heights of the clouds, I will be like the Most High. Yet you shall be brought down to the pit… They that see you will look at you narrowly and consider saying, 'Is this the man that made the earth to tremble? That did shake kingdoms? That made the world as a desert and destroyed the cities thereof?'  …For I will rise up against them, says the LORD of hosts, and cut off from Babylon the name and remnant…"  Isaiah 14:13-22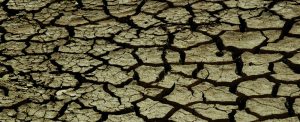 Babylon the Great
"And great Babylon has come into remembrance before God, to give to her the cup of the wine of the fierceness of His wrath."     Rev 16:19
"And upon her forehead is a name written, MYSTERY BABYLON THE GREAT, THE MOTHER OF HARLOTS AND ABOMINATIONS OF THE EARTH. …the woman that you see is that great city which reigns over the kings and rulers of the earth." Rev 17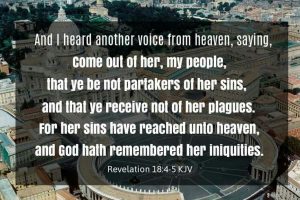 Let Us Return to the LORD
"Come, and let us return to the LORD: for He has torn, and He will heal us; He has smitten, and He will bind us up… Then we shall know, if we follow on to know the LORD: His going forth is prepared as the morning; and He shall come to us as the rain, as the latter and former rain unto the earth." Hosea 6:1-3
"Sow to yourselves in righteousness, reap in mercy; break up your fallow ground: for it is time to seek the LORD, till He come and rain righteousness upon you." Hosea 10:12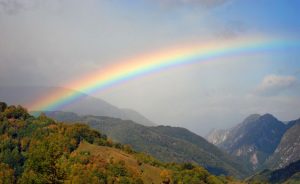 Jesus' Parable
"Therefore whosoever hears these sayings of mine, and does them, I will liken him unto a wise man, which built his house upon a rock: And the rain descended, and the floods came, and the winds blew, and beat upon that house; and it fell not: for it was founded upon a rock."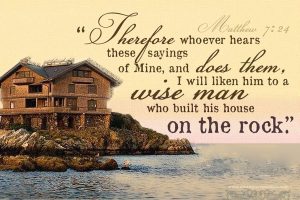 "And every one that hears these sayings of mine, and does not do them, shall be likened unto a foolish man, which built his house upon the sand: And the rain descended, and the floods came, and the winds blew, and beat upon that house; and it fell: and great was the fall of it."  Matt 7:24-27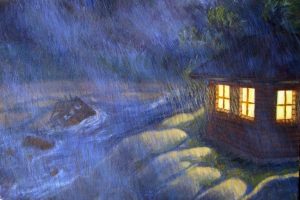 Elijah stopped the Rain… caused the Rain
"Elijah was a man subject to like passions as we are, and he prayed earnestly that it might not rain: and it rained not on the earth by the space of three years and six months. And he prayed again, and the heaven gave rain, and the earth brought forth her fruit."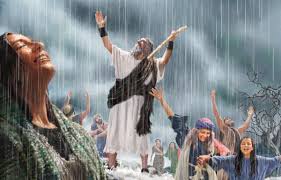 The Trumpet is Blown in Zion!
"Blow the trumpet in Zion, and sound an alarm in My Holy Mountain: let all the inhabitants of the land tremble: for the Day of the LORD has come, for it is here; A day of darkness and of gloominess, a day of clouds and of thick darkness, as the morning spread upon the mountains: a great people and a strong; there has not been ever the like, neither shall be any more after it, even to the years of many generations." Joel 2:1-2
"Be glad then, you children of Zion, and rejoice in the LORD your God: for He has given you the former rain moderately, and He will cause the rain to come down for you, the former rain, and the latter rain in the New Moon.  …And you shall eat in plenty, and be satisfied, and praise the Name of the LORD your God, that has dealt wondrously with you: and My people shall never be ashamed. And you shall know that I am in the midst of Israel, and that I am the LORD your God, and none else: and My people shall never be ashamed." Joel 2:23-27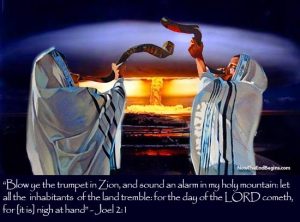 Give us this Day our Daily Bread, by Glowing Nacreous