September was a pivotal month across several fronts. Another US state rolled out a trial Digital Drivers License and the G-20 gathering of nations approved a global alliance on digital public infrastructure. September 16th marked 'International Identification Day' to promote ID cards for all. These are all steps toward the prophesied 'Mark of the Beast'.
Also prophesied is the sound of a Trumpet to warn against these developments. That just happened with the launch of The Firmament Podcast! You can watch all episodes here to learn about God's Word, current events and prophecy.
The following map is a summary of current events related to prophecy. Below the map you will find the event details and relevant Scriptural references. Many people have been taught God's Word in the past tense. This is incorrect. The teachings and scenarios in the Bible and God's Word are all prophetic, pointing to a future time, and that time is now.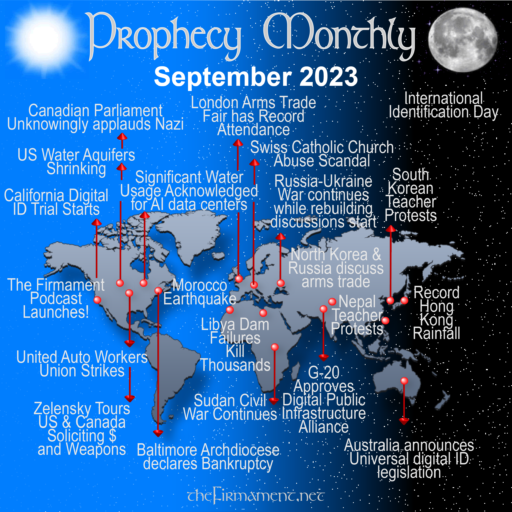 The Mark of the Beast
With each passing month, the world is one step closer to a Universal Digital ID, digital currency and digital healthcare system all merged into one. When in place, you will not be able to 'buy nor sell' unless you have one of these digital ID's. This is the 'Mark of the Beast' described in the Book of Revelation.
"And he (the Beast) causes all, both small and great, rich and poor, free and bond, to receive a mark in their right hand, or in their foreheads: And that no man might buy or sell, save he that had the mark…"

The Book of Revelation 13:16-17
This month California kicked off its digital ID trial with a phone application generated by the Department of Motor Vehicles. 'It's convenient, more secure and inclusive' is a common mantra put forth regarding digital identification promoters, but this technology will take the world into a whole new level of surveillance and control. Here's a video clip introducing the California Digital ID.
Digital Public Infrastructure
In this same month, the G20 held their annual gathering in India. One of the main outcomes was an agreement called 'One Future Alliance' to advance a regulatory framework around crypto currency, digital currency and digital identification termed Digital Public Infrastructure or DPI. According to a joint statement from the G20 gathering, "Prime Minister Modi and President Biden intend to work together to provide global leadership for the implementation of DPI" to create a "Global Digital Development partnership."
India has implemented an electronic identification and integrated banking system for some time now. But, one of the rarely talked about outcomes associated with this New Digital Age is the control India has imposed over select communities through internet blackouts. India has openly used blackouts as a way to "maintain law and order" in regions with ethnic clashes. It has been termed a new tool for political control. The country with the second highest internet blackouts is Ukraine.
One component of the Digital Public Infrastructure is the exploding use of artificial intelligence (AI) to manage and process the data. There are many issues with AI, but one that is seldom addressed is the ecological cost to the planet. Microsoft disclosed that its global water consumption spiked 34% in the last year primarily due to cooling systems required to keep data centers specifically linked to AI operational in warmer weather. At the same time, the New York Times reported on the shrinking aquifers in the US over the past 100 years.
Digitize Everything
Ukraine has jumped on board with the digitization of all information related to their military staffing. The newly appointed Defense Minister was put in place to counter 'corruption' in the recruiting process. He was quoted as saying:
"The task is to digitalize all processes and launch a single register of conscripts, which will eliminate any corruption risks. Digital. Everything that can be digitized must be digitized. All information about a soldier should be digital: an Electronic Military ID card, digitization of military, medical examination and hospitals, a digital journal, [and] a report for the military."

Ukraine Defense Minister Rustem Umierov
September 16th has been termed 'International Identification Day' or 'Identity Day' to promote 'inclusion, protection and utility' for all people through acquiring an identification card (Digital ID Card). The date chosen highlights the United Nations Sustainable Development Goal 16.9 calling for 'legal identity for all by 2030.' Countries around the world have already implemented or are in the process of implementing digital government ID's. In September, Australia joined the growing list by announcing draft legislation for a universal digital ID.
Digital ID Cards Spread Across US States With Range of New Uses
G20 Declaration: Significant of Digital Public Infrastructure Explained
Decoding the G20 Consensus on Digital Public Infrastructure
A 'tool for political control': How India became the world leader in internet blackouts
Artificial intelligence technology behind ChatGPT built in Iowa — with a lot of water
America Is Using Up Its Groundwater Like There's No Tomorrow
Ukraine's new Defense Minister's plans: electronic military ID card
International Identity Day
Australia unveils plans for universal digital ID and AI taskforce
Protests
Around the world protestors rose up in opposition to government actions, inequalities and employment issues. The United Auto Workers Union (UAW) walked out of five plants and thirty-eight Parts and Distribution Centers, bringing the total number of people on strike to 25,000.
Auto worker strike explained: the pay gap, the talks and what Biden is doing
UAW announces significant expansion of strike at GM, Stellantis but reports progress in talks at Ford
Prior to the United Nations general assembly, Biden met Israel prime Minister Netanyahu in New York while protests against the Israel judicial overhaul plan gathered outside. Meanwhile, in Israel, the Ultra-Orthodox protest the military draft requirements of which they are exempt, but still requires registration with the military. Their exemption has been a point of contentious issue outside of the Ultra-Orthodox community.
Biden shakes hands with Benjamin Netanyahu at New York hotel with hundreds of protesters outside
Ultra-Orthodox men block Jerusalem traffic in protest against Israeli military draft
In both Nepal and South Korea, teachers took to the streets to protest reforms and treatment respectively. The South Korean protest after a young teacher committed suicide, thought to be in response to bullying. The 110,000 teachers on strike in Nepal objected to reforms including the prohibition of joining political groups in addition to wage disagreements and training oversight.
Abused, traumatized and powerless: South Korea's teachers on why they are protesting
Nepal: Teachers strike over education reform shuts down schools
"And there shall be… upon the earth distress of nations, with perplexity; the sea and the waves roaring (protests)."

Luke 21:25
Wars and Rumors of Wars
Ukraine
Zelensky made another round of trips to the UN in New York, to the White House and to Canada. He continued to campaign for military and financial support. He was successful in getting Biden to commit to an additional $600 million aid package. In addition, Biden agreed to provide long-range missiles enabling Ukraine to reach targets beyond the front lines, but not into Russian territory, although that demarcation is no longer well defined. Previously we reported that the US was sending cluster bombs to Ukraine, now Ukraine has had more cluster munition deaths than Syria.
Zelensky faced a roadblock from Poland after they said they would not add additional military support due to a disagreement over grain. In lieu of supplying Ukraine with weapons, Poland will modernize their own military instead.
Zelensky secured additional financial and military support from Canada in September. However, his visit to Parliament was upstaged by the presence of a Ukrainian confirmed to have been a Nazi. The man received a glowing introduction and standing ovation from the Canadian parliament. The man's history came to light after the event and led to the resignation of the parliament speaker. Nazi's were admitted into Canada after 'special security screening' in response to a request from Britain to help manage soldiers who surrendered after the war (WWII).
US announces new $600 million aid package for Ukraine to boost counteroffensive
US agrees to send long-range missiles to Ukraine in military boost for Kyiv
Cluster munition deaths in Ukraine pass Syria, fueling rise in a weapon the world has tried to ban
Poland will no longer send weapons to Ukraine, says PM, as grain dispute escalates
Canada reaffirms our unwavering support for Ukraine for as long as it takes
Canada parliament speaker resigns after calling Ukrainian Nazi veteran a 'hero'
How did a volunteer from a Nazi unit get invited to Parliament?
"The way of peace they know not; and there is no judgement in the goings: they have made them crooked paths: whosoever goes therein shall not know peace."

Isaiah 59:8
"For God shall bring every work into judgment, every secret thing, whether it be good, or whether it be evil."

Ecclesiastes 12:14
"The earth also was corrupt before God, and the earth was filled with violence. And God looked upon the earth, and, behold, it was corrupt; for all flesh had corrupted his way upon the earth. And God said unto Noah, 'The end of all flesh is come before me; because the earth is filled with violence through them; and, behold, I will destroy them with the earth.'"

Genesis 6:11-13
Rebuilding Ukraine
Where there's war, there's profit. War profits those who manufacture and supply the military weapons, but also those who come in afterwards to restore and rebuild. While in the US, Zelensky made a stop to visit the largest US bank, JPMorgan, where a group of CEO's, billionaires and bankers had gathered. The discussion focused on attracting private sector money for rebuilding Ukraine. The week before this meeting, Biden announced the creation of a new role, a US Special representative for Ukraine's Economic recovery. Penny Pritzker, a billionaire connected to Hyatt Hotels, filled the position. Pritzker previously worked for the Obama administration and does not have a clean financial background, although she does have Ukrainian roots.
The US isn't the only country looking to profit from the rebuild effort. The Global Infrastructure Cooperation Conference, held in South Korea, brought together 24 countries and their relevant corporate CEO's to discuss rebuilding opportunities. While rebuilding the war-torn country is no doubt a welcomed focus by the people of Ukraine, when profit is the motive the distribution of aid and resources often leads to corruption and enrichment of the wealthy. This war, like most wars, lines the pockets of the banks, the rich and the powerful.
Zelensky huddled Wednesday night with Wall Street CEOs and business leaders to discuss rebuilding Ukraine
Zelensky holds secret NYC meeting with private equity bosses at JPMorgan, Google and Blackstone to discuss rebuilding war-torn Ukraine
Who is Penny Pritzker, new US special representative for Ukraine's economic recovery?
3 Troubling Things To Know About Billionaire Penny Pritzker
"The rich rules over the poor, and the borrower is servant to the lender."

Proverbs 22:7
"For the love of money is the root of all evil…"

1 Timothy 6:10
Sudan
The ongoing war in Sudan has now displaced five million people. A market in Khartoum hit with an airstrike led to the deaths of at least 40 people. In addition, the countries infrastructure and support systems are significantly impacted. For example 80% of the countries hospitals have closed.
Humanitarian crisis as 5m displaced by civil war in Sudan
Sudan Situation Report
At least 40 killed in air strike on Khartoum market
Sudan conflict: Khartoum landmarks in flames as battles rage across country
Rumors of Wars
North Korean leader Kim Jong-un made a trip to Russia and spent several days with Putin in talks over weapons and military equipment. In the same month North Korea launched a nuclear tactical attack submarine. As world powers negotiate alignments and treaties, the threat of war on a larger scale increases.
Kim Jong-un inspects nuclear-capable aircraft on Russian visit
North Korea's Kim gets a close look at Russian fighter jets as his tour narrows its focus to weapons
North Korea launches new 'tactical nuclear attack submarine'
Russia and North Korea are not the only ones gearing up for military activity. Europe's largest arms fair, held in London, had a record number of attendees from around the world. The arms trade is big business. Countries come together for a 'fair' to purchase weapons and then go back home with the intent on using them on each other. In a world where many think 'might makes right' there are no winners, just profits.
Record numbers expected as Europe's biggest arms fair opens in London
"You shall hear of wars and rumors of wars: see that you are not troubled: for all these things must come to pass, but the end is not yet."

Matthew 24:5
"And the king (leader) shall do according to his will; and he shall exalt himself… But in his estate (place) shall he honor the God of forces (weapons): and a god whom his fathers knew not shall he honor with gold and silver, and with precious stones, and pleasant things."

Daniel 11:36-38
Extreme Weather
The US has reached a new milestone with twenty-three 'extreme weather' events, the most ever in a single year. The year is not yet over and already these Billion-dollar events have surpassed the previous record set in 2020.
Water
Many of the weather events have been related to flooding. In September both Las Vegas in the West and New York in the East declared emergencies due to flash flooding. In the rest of the world, South Africa, New Zealand and Greece were all overwhelmed with water. Hong Kong recorded its heaviest rainfall since 1884!
A Cyclone drenched Libya causing two dams to burst. The ensuing floods wiped out entire neighborhoods. Over 4,000 people have been confirmed dead with 10,000 people still missing. The emergency response led to the isolation of entire sections of impacted towns due to fear of disease and to facilitate rescue efforts.
Las Vegas residents dry out after heavy rainfall and floods
New York City reels after flash flooding chaos and powerful downpours
Weather tracker: South Africa floods kill at least 11 people
Queenstown declares state of emergency after flooding hits New Zealand tourist hub
Bulgaria, Turkey and Greece streets turn to rivers in deadly floods
Hong Kong paralyzed by flash flooding after heaviest rainfall since 1884
The death toll from flooding in central Greece has increased to 10 while 4 others are missing
Libya flooding of 2023
Libyan authorities seal off most of flood-hit Derna in effort to limit deaths
Libya flooding: before and after satellite images reveal scale of disaster in Derna
"And there will be great fear and trembling on the earth, and those who witness that wrath will shudder, and trembling will seize them. And after that, heavy rainstorms will come from the south and the north and another part from the west. And winds from the east will grow strong, and will reveal it…"

2 Esdras 15:37-39
"But as the days of Noah were, so shall also the coming of the Son of Adam be. For as in the days that were before the flood they were eating and drinking, marrying and giving in marriage, until the day that Noah entered into the Ark, and knew not until the flood came, and took them all away; so shall also the coming of the Son of Adam be… "

Matthew 24:37-39
Earthquake
A 6.8 magnitude earthquake rocked Morocco, devastating Marrakech and surrounding areas. It was the largest quake to hit that region in 120 years. Meanwhile, Naples Italy is concerned about an impending volcanic eruption due to increased seismic activity.
Powerful quake in Morocco kills more than 2,000 people and damages historic buildings in Marrakech
Morocco earthquake: death toll passes 2,800 as foreign aid teams fly in
Morocco earthquake: Mountain villages plunged into grief
Fears rise of volcanic eruption near Naples after strongest earthquake in 40 years
"For now disasters have come upon the whole world, and you will stay among them, for God will not deliver you, because you have sinned against him."

2 Esdras 15:27
"…there shall be earthquakes in diverse places…"

Luke 13:8
Hypocrisy
Sexual abuse in US Churches
The 33rd US Roman Catholic Archdiocese to do so has declared bankruptcy. This past month Baltimore added itself to the growing list of Archdiocese using this tactic to minimize damage stemming from their child sexual abuse scandal. Coincidentally, the Archdiocese of Baltimore declared bankruptcy days before a Maryland Law removing the statute of limitations goes into effect. The interim executive director of SNAP (Survivors Network of those Abused by Priests) said it best when he stated:
"Catholic bishops are employing the same deception from coast to coast… Cover up child sex offenses while maintaining the ministry of the abusers. Next, oppose any modifications to the statute of limitations that might make those offenses more visible. Finally, go to federal bankruptcy courts and act as though you have run out of money when secular laws offer a window to justice. When will church officials make true amends?"

Michael McDonnell, interim executive director of the national group Survivors Network of those Abused by Priests
The latest development with Archdiocese of New Orleans Bankruptcy comes from their Archbishop. He has told the local churches, schools and other ministries that 'there must be a contribution from the apostolates.' In other words, the donations made by the congregations, the very congregations on which the abusers preyed, are being asked to pay for the abuse they endured.
As a reminder, the US gave the Roman Catholic Church $3.5 Billion of taxpayer money through the Covid PPP 'loans.'
Baltimore Archdiocese files for bankruptcy before new law on abuse lawsuits takes effect
Revised report on Maryland church sex abuse leaves 5 church leaders' names still redacted
Diocesan Bankruptcies
New Orleans archbishop: local Catholic institutions must help with cost of clergy abuse claims
Sexual Abuse in International Churches
Outside of the US, Switzerland is the latest country to study sexual abuse and the Catholic Church. They found 1,000 cases since the mid-20th century, but historians noted 'the situations identified surely amount to only the tip of the iceberg.' Based on other country findings, this is likely to be true. In Belgium, a Catholic Bishop publicly aired frustration with the Vatican for not defrocking a colleague know to be a pedophile.
Germany is grappling with the same scandal. Now a deceased Cardinal, the highest position in the church outside of the pope, has been added to their list of accused Catholic Clergy. In 2018, a church-commissioned report found over 3600 were abused in Germany.
Sweeping study finds 1,000 cases of sexual abuse in Swiss Catholic Church since mid-20th century
Vatican orders investigation into Catholic clerics linked to abuse, Swiss Bishops' Conference says
A Belgian bishop says the Vatican has for years snubbed pleas to defrock a pedophile ex-colleague
Sex abuse allegations against a deceased cardinal add to the German church's troubles
"In the seventh week there will come priests; idolaters, adulterers, money lovers, arrogant, lawless, voluptuaries, pederasts, those who practice bestiality."

Testament of Levi 17:11
"Woe to you scribes and Pharisees, hypocrites! For you are like whitewashed tombs, which indeed appear beautiful outside, but are full of dead men's bones, and of all uncleanness. Even so you also outwardly appear righteous to men, but within you are full of hypocrisy and iniquity."

Matthew 23:27-28
"Beware of false prophets, which come to you in sheep's clothing, but inwardly they are ravening wolves."

Matthew 7:15
Caught in Unawares
"And take heed to yourself, lest at any time your hearts are overcharged with surfeiting, and drunkenness1"The serpents are the leaders of the peoples and their wine is their ways." DD 3:19, and cares of this life, and so that day comes upon you in unawareness. For as a snare shall it come on all them that dwell on the face of the whole earth, You watch therefore, and pray always, that you may be able to escape all these things that shall come to pass, and to stand before the Son of Adam."

Luke 21:34-36
---