This past month's news has been full of hypocritical 'judgements', abuse scandals, idolatry, war, extreme weather and a decline in church attendance. Taking just one of those issues, consider how often those in 'high places' or positions of power make judgements about their peers, their followers and the population 'below' them. But what happens when those making the judgements are guilty of the same thing they accused or judged of others? This hypocrisy holds true in religions and governments in general, regardless of political affiliation. God spoke about those who actually condemn themselves by the judgements they have made against others, because all the while, they do the same thing. Learn more below.
The following map is a summary of current events related to prophecy. Below the map you will find the event details and relevant scriptural references. Many people have been taught God's Word in the past tense. This is incorrect. The teachings and scenarios in the Bible and God's Word are all prophetic pointing to a future time, and that time is now.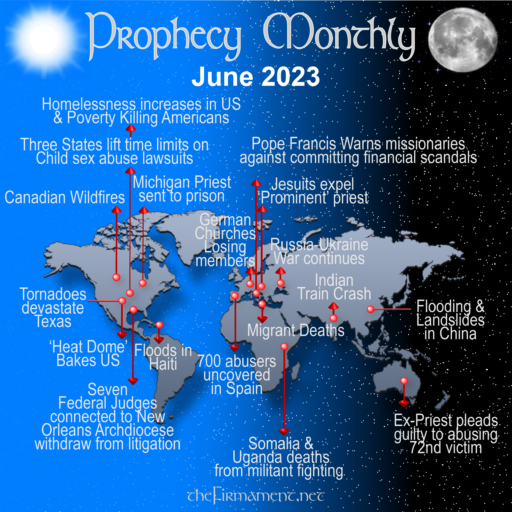 Scandals
Last month, we looked at several abuse scandals from around the world and the long-term impact on both victims and their families. This month, more scandals continue to come to light.
In Spain, an investigation by the Catholic Church found over 700 alleged abusers within their own organization. How many more would be found if an outside organization did the investigating? Spain's national prosecutor wrote the Church's internal investigation was "partial" and "of little use" leaving no doubt that more abusers and victims have yet to be found.
In Cologne Germany, the 'historic center' of Catholicism for that country, a court ordered the Catholic Church to pay a former altar boy for repeated sexual abuse. Surprisingly, the ruling was considered a first of it's kind in Germany. The German Catholic church has been making 'voluntary payments' to victims following a church-commissioned 2018 report that found over 3,500 abuse victims. The ruling has encouraged more victims to take their claims to the courts.
In Australia, an ex-priest currently serving a 39-year sentence for abusing children, plead guilty to his 72nd known victim. As a priest, he was 'shuffled between 16 church posts.' Cardinal Pell was found to have known about the abuses.
The Jesuits expelled a Slovenian priest this past June after allegations of abuse of adult women created a scandal for the Vatican when Italian blogs and websites covered the complaints. The Jesuit had previously been excommunicated in 2020 for the same accusations, but after he 'repented' the sanction was removed. The Vatican's sex abuse office, where Jesuits hold the top positions, previously declared the crimes too old to prosecute. The priest is considered 'prominent' due to his 'celebrated' religious art of mosaics in churches including the Vatican. The Vatican appears not to consider that God doesn't care how 'prominent' or celebrated one is. He is not a respecter of persons. The Vatican hierarchy is not in-line with God when they have 'men's persons in admiration because of advantage.'
"But he that does wrong shall receive for the wrong which he has done: and there is no respect of persons."

Colossians 3:25
"…there are certain men… ungodly men, turning the grace of our God into lasciviousness… their mouth speaking great swelling words, having men's persons in admiration because of advantage."

Jude 4-16
Spain's catholic Church finds hundreds of alleged child abusers over eight decades
German court orders Cologne archdiocese to pay clergy abuse victim over $300,000
Australian ex-priest pleads guilty to 72nd victim
Jesuits expel prominent priest
In the US, The Archdiocese of New Orleans has been dealing with several lawsuits associated with sexual abuse of minors including one that this month revealed the active concealment of a serial child molester. There are 14 federal district judges in New Orleans that handle such cases and seven of them have had to recuse themselves due to associations with the Archdiocese. An eighth judge may also recuse herself because of previous donations made to the Archdiocese. Consider that 6 out of the 9 Supreme Court Justices are Catholic. Ask yourself, is the Catholic Church, and thereby those who follow her, in-line with God?
"You shall not respect persons in judgment, but you shall hear the small as well as the great; you shall not be afraid of the face of man; for the judgment is God's…"

Deuteronomy 1:17
"For God shall bring every work into judgment, every secret thing, whether it be good, or whether it be evil."

Ecclesiastes 12:14
Also in the US, the Archdiocese of St. Louis agreed to a $1 million settlement with a sex abuse victim. In Michigan, a priest was sentenced to a year in prison for assaulting a five-year-old boy. On a positive note, Vermont, Maine and Maryland have all removed time limits on child sex abuse lawsuits with Michigan, Rhode Island and Massachusetts appearing to soon follow suite.
Revealed: New Orleans archdiocese concealed serial child molester for years
Eight federal judge may withdraw from New Orleans Catholic church litigation
The Archdiocese of St. Louis will pay $1 million to settle a sex abuse lawsuit
Delayed justice: 3 states remove all time limits on child sex abuse lawsuits
Michigan priest gets a year in prison
Woe to you scribes and pharisees, hypocrites! For you are like white sepulchers, which indeed appear beautiful outside, but are full of dead men's bones, and of all uncleanness. Even so you also outwardly appear righteous to men, but within you are full of hypocrisy and iniquity."

Matthew 23:27-28
"Woe to the world because of offenses (scandals)! for it must needs be that offenses come; but woe to that man (those men) by whom the offenses (scandals) come!"

Matthew 18:7
Becoming the thing one worships
Hundreds of scriptures warn against idolatry. One of the most clear is in the Psalms.
"The idols of the heathen are silver and gold, the work of men's hands. They have mouths, but they speak not; eyes have they, but they see not; They have ears, but they hear not; neither is there any breath in their mouths. They that make them are like unto them: so is every one that trusts in them."

Psalm 135: 15-18
Those who make idols or trust in idols become like the idols. They have eyes, but can't see or understand God's Words, they have ears, but can't hear or comprehend God and lastly they have a mouth, but no breath or spirit, meaning they are 'dead' to God. Even with this stark warning there are religious leaders still leading their flock astray into idolatry. The Pope is the chiefest among them. On June 29th, the Catholic Church celebrated the feast day of saints Peter and Paul. On that day, they dress up a statue of Peter with Papal garments and the three tiered crown.
On days when the Vatican isn't playing dress up with the statue of Saint Peter, visitors can rub the bronze feet, supposedly for good luck or blessings. Besides touching these statues made by hands, some are promoted for their apparitions, such as bleeding or crying eyes or appearing in visions with secret messages or premonitions. A well-known example is the apparitions of the 'virgin Mary' or 'Our Lady of Fatima.' A statue of her is celebrated in a sanctuary built at the location of the supposed visions. It has become a popular pilgrimage destination with the Pope himself planning a visit in August.
This past month Pope Francis warned that not all apparitions of the virgin Mary are real. Thousands were traveling to a town near Rome because it was claimed a statue shed 'tears of blood.' The blood, in fact, came from a pig. The woman promoting the apparition was previously accused of setting up a charity where collected funds were supposed to go to sick children. Who's ways is she following in? Her idol worship and financial scandal are 'small potatoes' compared to the Vatican. Earlier this month, Pope Francis warned his own missionary fundraisers "not to allow financial corruption to creep into their work" a warning thought to stem from the recent financial corruption scandal in the Pontifical Mission Societies. Was this woman just following in her leaders footsteps!
"Professing themselves to be wise, they became fools, And changed the glory of the uncorrupible God into an image made like to corruptible man… Who knowing the judgment of God, that they which commit such things are worthy of death, not only do the same, but have pleasure in them that do them. Therefore you are inexcusable, o man, whosoever you are that judges: for wherein you judge another, you condemn yourself; for you that judge do the same things."

Romans 1:22-2:1
"Every plant, which my heavenly Father has not planted, shall be rooted up. Let them alone: they are blind leaders of the blind. And if the blind lead the blind, both shall fall into the ditch."

Matthew 15:13-14
God has warned that those who worship such things, idols, will become like the thing they worship. Blind, deaf and dumb. This month, the pope was recovering from surgery and reportedly felt so out of breath, he couldn't deliver a prepared speech. Those statues he surrounds himself with couldn't give the speech either.
But times are changing with the first ChatGPT created church service being held this past month. Can a robot teach about God? Will people look to the robots regurgitating scripture as God? The key word with artificial intelligence is artificial. Just like the statues made of gold, bronze or stone are idols which are artificial representations of saints or gods, a robot with artificial intelligence is still artificial. It is no replacement for God or those who understand God's Word. This is exactly why God has commanded against idolatry.
Virgin Mary apparitions 'not always real', says Pope
Pope warns of risk of corruption in missionary fundraising
Pope short of breath
Can a chatbot preach a good sermon?
Decline of Churches – Falling Away
The growing trend of people walking away from religion continues worldwide. False religions have hijacked God's Word for too long. He has watched as religions have led billions astray from Him. So when people fall away from those false religions, there is no love lost, there is actually hope! It is time to turn away from religion and turn toward God!
Along these lines, in June it was reported that Germany has seen over half-a-million people leave the Catholic Church in 2022, up from the 360,000 people that left in 2021. To quote a canon lawyer, "The Catholic church is dying a painful death in full view of the public." The church has expressed 'shock' at the renouncement's, mostly driven by the sex abuse scandals and coverups. The German protestant churches have seen similar reactions to their own abuse scandals, loosing 380,000 people in 2022. Learning the truth about these religious organizations has brought many in the congregations to flee.
In Europe, abandoned or soon to be abandoned churches are being converted to everything from cafe's and restaurants to a space for a climbing wall. Some call this abandonment of religion 'godless', but those may finally find God without the religious deceptions leading them astray!
German Catholic church 'dying painful death' as 520,000 leave in a year
A mostly godless Europe is turning ancient churches into dance clubs and cultural hot spots
"Let no man deceive you by any means: for that day shall not come, except there come a falling away first, and that man of sin be revealed, the son of perdition."

2 Thessalonians 2:3
"To everything there is a season (set time), and a time to every purpose under the heaven… a time to break down, and a time to build up."

Ecclesiastes 3: 1-3
"Be not deceived; God is not mocked: for whatsoever a man sows, that shall he also reap."

Galatians 6:7
"The Most High does not dwell in temples made by hands.; as said the prophet, Heaven in My Throne ,and the earth is my footstool: what house will you build Me? Saith the Lord: or what is the place of My rest?"

Acts 7:48-49
Wars and Rumors of Wars
Ukraine
Ukraine has officially started its counteroffensive against Russia. The counteroffensive has not brought this war any closer to an end, with predictions of months to years before a resolution between the two countries. Last month we covered the spending by Nato countries and elsewhere on the war in Ukraine. This month, the Pentagon announced an accounting error of $6 billion that will provide even more aid to Ukraine. A key ammonia pipeline in Russia and a large damn in Ukraine were both sabotaged, putting grain distribution and farmland at risk. A contingency from Africa tried to push a peace agreement between the two countries, but met resistance from both sides.
Zelensky says 'counteroffensive, defensive actions' taking plane in Ukraine
Pentagon accounting error provides extra $6.2 billion for Ukraine military aid
Ukraine War: Russia says ammonia pipeline blast may end grain deal
Ukraine dam: Floods devastate tracts of rich farmland
Ukraine and Myanmar make 2022 most violent year in a decade for medical staff
Ukraine war must end, South African President Ramaphosa tells Putin
Somalia & Uganda
Fifty-four African Union soldiers referred to as peacekeepers were killed in Somalia at a military base. Somalia's government and an organization called Al-Shabaab have been waging war over the past decade. The US got involved when it completed an airstrike near the base after the attack saying they 'destroyed weapons and equipment unlawfully taken by Al-Shabaab fighters.
In Uganda thirty-eight students were killed in their dormitories along with a guard and two residents, when the school was attacked by militants.
Uganda says 54 African Union peacekeepers killed in Somalia by Al-Shabaab militants
At least 41 killed in rebel attack on Ugandan school
"The way of peace they know not; and there is no judgement in the goings: they have made them crooked paths: whosoever goes therein shall not know peace."

Isaiah 59:8
"You shall hear of wars and rumors of wars: see that you are not troubled: for all these things must come to pass, but the end is not yet."

Matthew 24:5
"The earth also was corrupt before God, and the earth was filled with violence. And God looked upon the earth, and, behold, it was corrupt; for all flesh had corrupted his way upon the earth. And God said unto Noah, 'The end of all flesh is come before me; because the earth is filled with violence through them; and, behold, I will destroy them with the earth.'"

Genesis 6:11-13
Tribulation & Extreme Weather
This last month weather extremes and tribulation occurred throughout the world. Wildfires, floods, cyclones, earthquakes and record high temperatures for both the air and water impacted 'life as we know it.'
Devastating floods in Haiti killed at least 42 people and displaced over 13,000. Floods and landslides occurred in China leaving at least 17 dead.
The second longest duration cyclone over the North Indian Ocean developed in June and lasted for over 13 days. The cyclone was equivalent to a Category 3 hurricane. In Texas, a tornado touched down in the panhandle killing three. More tornadoes and hurricane-force winds killed 4 in west Texas.
In France, a country that rarely has strong earthquakes, a 5.5 earthquake damaged homes, schools and churches. A 7.2 earthquake rocked Tonga and the Kilauea volcano in Hawaii began erupting again.
At least 42 dead and thousands displaced in Haiti after flooding
Flooding, landslides in China
'Biparjoy' second-longest cyclone over North Indian Ocean
Hawaii's Kilauea volcano is still erupting
Tornado devastates Texas Panhandle town
Tornadoes, hail and hurricane-force winds tear through west Texas
Rare earthquake damages French homes
The Heat is On
The North Atlantic Ocean water temperatures reached 'unprecedented' levels in June where they were several degrees higher than usual.
North Atlantic is experiencing a 'totally unprecedented' marine heat wave
Why is the North Atlantic breaking heat records?
A 'heat dome' over much of the central US put 40 million people under a heat alert. Corpus Christi reached a heat index, which also takes into account humidity, of 125F!
Where there's smoke, there's fire, and Canada is on fire. The 'unprecedented' wildfires in Canada continued to burn this month, leaving millions in the US blanketed in smoke. First New York and the East coast made headlines at the start of the month, followed by Chicago, Detroit and Pittsburgh at the end of the month.
The Canadian fires have been described as 'unstoppable' and so far that has been true. Over 500 fires are still burning with 231 considered to be 'out of control.'
Record-breaking Texas heatwave enters third week as thousand lose power
'The Fires Here are Unstoppable'
Canadian wildfire maps show where fires continue to burn
"But the day of the Lord will come as a thief in the night; in the which the heavens shall pass away with a great noise, and the elements shall melt with fervent heat, the earth also and the works that are therein shall be burned up."

2 Peter 3:10
Tribulation
In India this past month, the worst train accident in twenty years left over 275 people dead. Off the coast of Greece a boat carrying migrants capsized, killing at least 80, with more than 500 still missing. This tragedy highlights the risks people will take to leave their homelands for a 'better life' or to flee violence, corruption or poverty.
India's worst train accident in two decades
Migrant boat disaster: What to know about the tragedy off Greece's coast
Millions of families in the US are suffering due to the loss of their medical coverage, their job, their home or all three. Evictions have increased 50% over pre-pandemic levels in some cities. Across the nation, homelessness is increasing, In LA, the homeless population has risen 9% from the previous year. San Diego saw a 33% increase.
A recent study determined the fourth leading cause of death is now 'cumulative poverty.' Twenty percent of children in the US live in poverty and the rate for the overall population is 17.8%. That's over 55 million people living in poverty in a 'first-world' country. For comparison, the entire population of Ukraine is just over 40 million people.
Nationwide, about 1.5 million people have recently been dropped from Medicaid. Policies put in place during COVID limited eligibility checks, but the process of eligibility verification has come under scrutiny for inaccurate conclusions. The U.S. Department of Health and Human Services forecast that more than half of the children dis-enrolled were still actually eligible for enrollment.
During COVID, the relief initiatives were meant to prevent some of the consequences of stay-at-home orders such as lost jobs and lost sales for small business owners. But this past month a federal watchdog announced that more than $200 billion in COVID aid was distributed to fraudsters. The Great Grift, as the scandal has been termed, is only beginning to be understood.
Eviction filings are 50% higher than they were pre-pandemic in some cities as rents rise
Homelessness rose in the U.S. after pandemic aid dried up
Report: Homeless population rises 9% in Los Angeles County
The fourth leading cause of death in the US? Cumulative poverty
Poverty is the 4th greatest cause of U.S. deaths
More than 1 million people are dropped from Medicaid
The Great Grift: More than $200 billion in COVID-19 aid may have been stolen
"And the Lord was provoked at this and at all the works of the cities of Sodom, for they had abundance of food and had tranquility among them, but they still would not sustain the poor and the needy…"

The Book of Jasher 19:44
"For then shall be great tribulation, such as was not since the beginning of the world to this time, no, nor ever shall be."

Matthew 24:21
"The beginning of sorrows and great mourning; the beginning of famine and great death; the beginning of wars, and the powers shall stand in fear; the beginning of evils! … Behold, famine and plague, tribulation and anguish, are sent as scourges for amendment. But for all these things they shall not turn from their wickedness, nor be always mindful of the scourges."

2 Esdras 16:18-20
"When you are in tribulation, and all these things are come upon you, even in the latter days, if you turn to the LORD your God, and shall be obedient to His Voice; For the LORD your God is a merciful God; He will not forsake you, neither destroy you, nor forget the Covenant of Your fathers which He swore to them."

Deuteronomy 4:30-31
Caught in Unawares
"And take heed to yourself, lest at any time your hearts be overcharged with surfeiting, and drunkenness1"The serpents are the leaders of the peoples and their wine is their ways." DD 3:19, and cares of this life, and so that day come upon you in unawares. For as a snare shall it come on all them that dwell on the face of the whole earth, You watch therefore, and pray always, that you may be accounted able to escape all these things that shall come to pass, and to stand before the Son of Adam."

Luke 21:34-36
---