October was another pivotal month in biblical prophecy. A full-blown war erupted in the Middle East with the Israel-Hamas conflict. The news has focused on the day to day battle developments, while little attention has been paid to the religious drivers for the attacks. Below we will take a closer look at the background and timing of this confrontation, which incredibly involves a red heifer shipped from a Texas ranch to Israel.
The following map is a summary of current events related to prophecy. Below the map you will find the event details and relevant Scriptural references. Many people have been taught God's Word in the past tense. This is incorrect. The teachings and scenarios in the Bible and God's Word are all prophetic, pointing to a future time, and that time is now.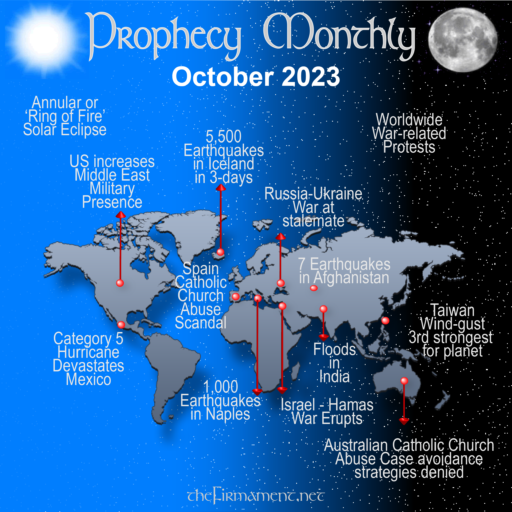 Wars and Rumors of Wars
Israel & Hamas War
On October 7th Hamas launched an attack on the State of Israel. Israel citizens were killed and kidnapped in the initial attacks and Israel promptly declared war. As of the end of October 2023, around 1400 Israeli's and over 7,000 Palestinians have been killed. This region has been a hot-spot for violence for decades, but during these last few years there has been an uptick in raids, rocket launches and deaths. By August of 2023 annual deaths surpassed all years since 2005, and that was before the present war even started. What triggered this all out war now and how does this fit into Prophecy?
Al-Aqsa Complex, Temple Mount
To start, Hamas called their attack on Israel 'Al-Aqsa Flood' or 'Al-Aqsa Storm.' Why? Al-Aqsa is the name of both a large Mosque and the complex on which the Mosque sits in Jerusalem. The plaza includes the Dome of the Rock. The Al-Aqsa Mosque is the third holiest to the Muslim world and their second largest complex, able to hold 400,000 worshipers.
This same complex is called 'The Temple Mount' by Jews and Christians and is where Solomon's Temple and Herod's Temple were built. Jews and Christians believe a third temple will be built on this site. Some factions of Christianity believe the Temple must be rebuilt in order for Jesus to return, while others believe Jesus will build the Temple after he returns. Likewise, Jewish factions are split in a similar manner except instead of Jesus, they believe another Messiah will build the physical temple or needs a physical temple to be built. Needless to say, this 37 acre plot of land has major significance to all three Abrahamic religions and is tied to many interpretations of prophecy, all of which are wrong.
Since the six-day war in 1967, custodianship of the plaza has been in Jordan's hands, but the Israeli police control the access gates. In addition, prior to 1967 a majority of Jews believed the plaza was not a place of worship for them, but accepted that is was a place where Muslims could worship. Jews have historically prayed at the Western Wall, but fringe groups have been pushing for significant changes to this tradition. This short video from February 2023 is a fantastic summary of the history of the Al-Aqsa Mosque, The Temple Mount and the religious tensions.
Rebuilding The Temple
As the factions of Jews and Christians determined to build the prophesied third temple in this location have grown, united and been elected to higher and higher offices, so has the friction with the Muslim community. What used to be a 'fringe' group pushing to proactively build the third temple, has grown into a political force in the Israeli government including the current National Security Minister. At the beginning of 2023, the recently appointed National Security Minister, Itamar Ben-Gvir, entered the Al-Asqa Mosque triggering reactions from around the world due to the provocation of the visit. In May of the previous year, Ben-Gvir stated during an Independence Day visit, "The time has come to build a Jewish synagogue on the Temple Mount."
In 2020 the then Defense Minister and later the Prime Minister of Israel, Naftali Bennet was quoted as saying "We need to understand the big picture, today we are in (the era) of the Third Temple" in regards to the 'Redemption process.'
"Thus says the LORD, The Heaven is My Throne, and the earth is My footstool: what is this house that you build for Me? and where is the place of My rest?"

Isaiah 66:1-2
"And Zion will come and be revealed to all men, made ready and built, like the mountain that you saw carved out without hands."

2 Esdras 13:36
"The kingdom of God comes not with observation (outward show): Neither shall they say, Lo here (it is)! or, lo there (it is)! for, behold, the kingdom of God is within you."

Luke 17:20-21
The Red Heifer
Rebuilding the Temple, in their understanding, is not just about a new building on a site already occupied by Muslim structures, but also the preparations for the religious ceremonies to be carried out within the temple. Those preparations include clean priests, pure garments and an unblemished red heifer.
In Numbers 19 there is a description of a sacrificed red heifer whose blood and ashes bring about the purification of sin for the people of God. Those pushing for the rebuilding of the Temple are looking to reinstate these ceremonial works of this law.
In 2022 five red heifers were flown from Texas to Israel as potential candidates for that sacrifice. The Rabbis believe that as soon as the heifers are 2 years and 1 day old, or entering their third year, they are acceptable for the sacrifice. Based on the ages of the heifers when they arrived in Israel, they came of age in October of 2023, the precise time when the Hamas – Israel War broke out.
Was Hamas paying attention to those red heifers? Yes. In this Israel 365 news article, Hamas specifically alerted their people that the arrival of the red heifers could 'judaize the holy mosques' and considered it a threat. Has a red Heifer been sacrificed? So far, that has not been reported. But does it matter to God? Absolutely not! It apparently does matter to the world religions. It may just be one of the last straws that led to the Hamas-Israel war.
The Law is a Shadow
Regarding God's law on the red heifer, what you are seeing play out is the fleshly understanding of the Law. The fleshy interpretation is in complete contradiction to God's intent. For more on the Fleshly vs Spiritual understanding of the Law, watch our podcast on this very subject.
"For the law having a shadow of good things to come, and not the very image of the things, can never with those sacrifices which they offered year by year continually make the comers thereunto perfect."

Hebrews 10:1
"But Christ being the high priest of good things to come, by a greater and more perfect tabernacle, not made with hands, that is to say, not of this building; Neither by the blood of goats and calves, but by his own blood he entered in once into the holy place, having obtained eternal redemption for us. For if the blood of bulls and of goats, and the ashes of an heifer sprinkling the unclean, sanctifies to the purifying of the flesh: How much more shall the blood of Christ, who through the eternal Spirit offered himself without spot to God, purge your conscience from dead works to serve the living God?"

Hebrews 9:11-14
"This heifer is Jesus Christ; the wicked men that were to offer it are those sinners who brought him to death: who afterwards have no more to do with it; the sinners have no more the honor of handling of it. But the young men that performed the sprinkling, signified those who preach to us the forgiveness of sins and the purification of the heart, to whom the Lord gave authority to preach his Message: being at the beginning twelve, to signify the tribes, because there were twelve tribes of Israel."

Barnabas 7:4-5
The Start of War
Throughout the 2023 week of Sukkot which started on September 29th and ended on October 6th, Israelis entered the Al-Aqsa Mosque in connection with the Jewish holiday. 1500 people on one day, 800 people on another. They were escorted by the Israeli police and in some cases Muslims under the age of 60 were barred from the complex. Hamas initiated their attack on October 7th, a high holy day for Jews as it coincided with the end of Sukkot and their Sabbath.
In the statement made by Hamas at the onset of the attacks, they cited their reasons as the ongoing treatment of Palestinians in Gaza and the West bank and the desire to have prisoners returned, but before that, they specifically stated that Israel "let the settlers and usurpers loose to sow corruption in the holy Al-Aqsa Mosque in Al-Quds. We told them, "Don't play with fire". We told them, "Don't cross the red line." But they plugged their ears and closed their eyes [to our warnings]. And because of their arrogance and insolence, in recent days, during their sinister religious festivals, they have invaded Al-Aqsa Mosque. They desecrated and defiled it."
Learn War No More
In NO WAY should Hamas have initiated such a horrific attack on the citizens of the State of Israel. And likewise, in NO WAY should Israel have attacked back, causing thousands of Palestinian citizens to die. This is a war initiated by ideologies where both claim they are fighting in God's Name or with God on their side or that they are doing the works of God through their weapons of war. God is not with either of them. Violence of the people is why he destroyed the earth the first time.
"And I will turn your feasts into mourning, and all your songs into lamentation; and I will bring up sackcloth upon all loins, and baldness upon every head; and I will make it as the mourning of an only son, and the end thereof as a bitter day."

Amos 8:10
"And it shall come to pass in the last days… many people shall go and say, Come ye, and let us go up to the mountain of the Lord, to the house of the God of Jacob; and he will teach us of His ways, … and they shall beat their swords into plowshares, and their spears into pruninghooks: nation shall not lift up sword against nation, neither shall they learn war any more."

Isaiah 2:2-4
Visions of Peace, when there is no Peace
Just prior to the outbreak of this war, Netanyahu visited the US to attend the UN assembly and meet with President Biden. While there, protests followed him due to the judicial changes he was proposing for the State of Israel. It should be noted, that protests followed him at home in Israel over the last year, where Israelis did not support him or his proposed changes.
He stated at the UN: 'As the circle of peace expands, I believe that a real path towards a genuine peace with our Palestinian neighbors can finally be achieved… For peace to prevail the Palestinians must stop spewing Jew-hatred and finally reconcile themselves to the Jewish state. By that I mean not only to the existence of the Jewish state but to the right of the Jewish people to have a state of their own in their historic homeland, the Land of Israel. And let me tell you, the people of Israel yearn for a genuine peace. I yearn for such a peace.'
"… the prophets of Israel which prophesy concerning Jerusalem, and which see visions of peace for her, and there is no peace, saith the Lord God."

Ezekiel 13:16
Vengeance is God's not man's
Netanhayu has changed his tune since the start of the war. He has quoted Ecclesiasticus when he said, 'there is a time for war and a time for peace, and this is a time for war.' The war referred to in scripture is a spiritual war, not a war with tanks and bombs. God also says, vengeance is His, not yours. Jacob, whose name was changed to Israel and who is the father of the twelve tribes of Israel, was a peaceable man, not war-like as his brother Esau was. Netanyahu has the traits of Esau more than Jacob with his warmongering talk and actions.
"Dearly beloved, avenge not yourselves, but rather give place to wrath: for it is written, Vengeance is mine; I will repay, saith the Lord."

Romans 12:19
"And the king (leader) shall do according to his will; and he shall exalt himself… But in his estate (place) shall he honor the God of forces (weapons): and a god whom his fathers knew not shall he honor with gold and silver, and with precious stones, and pleasant things."

Daniel 11:36-38
"As it is written, There is none righteous, no, not one: There is none that understands, there is none that seeks after God. They are all gone out of the way, they are together become unprofitable; there is none that does good, no, not one. Their throat is an open sepulchre; with their tongues they have used deceit; the poison of asps is under their lips: Whose mouth is full of cursing and bitterness: Their feet are swift to shed blood: Destruction and misery are in their ways: And the way of peace have they not known: There is no fear of God before their eyes."

Romans 3:10-18
200 Palestinians and nearly 30 Israelis have been killed, highest since 2005 as of August 2023
Temple Mount
Extreme-right Israeli minister visits Al-Aqsa mosque compound
On Israel's Independence Day: Lawmaker calls to build Third Temple
Israel's Defense Minister: We are Now in Era of Third Temple
Israeli Government Support for the Extremist Temple Mount Movement
The Untold story of Christian Zionism's rise to power in the United States
Hamas warns Red Heifers signal a new stage in the "Judaization of the mosques" on Temple Mount; calls for violence
Red heifer sacrifice could take place in one year in Jerusalem
The Israelis set for new Jewish temple on Al-Aqsa site
Israeli settlers storm Al-Aqsa Mosque complex on fifth day of Sukkot
Spirit vs. Flesh Podcast Episode
NYT – The militants' statement cited the Aqsa Mosque. Here's why it matters
CNN – Inside Al-Aqsa, Muslims say they're losing control of the holy site
AP – Gaza has long been a powder keg. Here's a look at the history
full text of the speech by Ismail Haniyeh, the head of the Hamas Political Bureau
Netanyahu declares it is 'time for war'
Syria
In conjunction with the War in Israel and Palestine, the US military presence in the region has increased with the addition of two aircraft carriers. US troops have come under attack in Syria and they retaliated with air strikes. Drones and missiles have been intercepted over the Red Sea and Iraq. There are at least 40,000 US troops in the region.
Where U.S. troops are stationed in the Middle East
Why did the US launch airstrikes on Syria and what happens next?
Ukraine
While the world has turned its attention to Israel and the Middle east, the war in Ukraine continues with no end in sight. North Korea appears to be supplying Russia with ammunition while the US has diverted ammunition seized from Iran to Ukraine. Meanwhile, Zelensky has a major concern that the Middle East conflict will take attention and support away from his government. The war appears to be at a stalemate, according to one leader of Belarus. He said, 'They're there, head-to-head, to the death, entrenched. People are dying.'
Evidence mounts of North Korean arms to Russia in threat for Ukraine
US supplies Ukraine with a million rounds of ammunition seized from Iran
Zelenskiy fears Middle East conflict could hit military aid to Ukraine
Belarus' Lukashenko says Ukraine-Russia war at stalemate, urges talks
"Their feet run to evil, and they make haste to shed innocent blood: their thoughts are thoughts of iniquity; wasting and destruction are in their paths. The way of peace they know not; and there is no judgment in their goings: they have made them crooked paths: whosoever goes therein shall not know peace."

Isaiah 59:7-8
"You shall hear of wars and rumors of wars: see that you are not troubled: for all these things must come to pass, but the end is not yet."

Matthew 24:5
Protests
Antisemitism & Islamophobia
Along with the start of the War in the Middle East, protests have spanned the globe both in support for Israel as well as against Israel. Along with the protests, reports of both Antisemitism and Islamophobia have escalated. The mainstream media often puts a label such as anti-Semite on anyone that doesn't support Israel's military response, but that doesn't make sense when a significant number of Jews themselves do not support the war. Likewise, declaring a rise in Islamaphobia when people are purely horrified by the initial attack carried out by Hamas, yet grasp the oppression placed on the Palestinian people also doesn't paint a clear picture.
What it actually does is create even more divisions among populations, when a majority of people just want to live in peace. This is a divide and conquer strategy, carried out against the people. Instead of calling these protests Pro-Israel, Pro-Hamas, or Pro-Palestinian; it would be more appropriate to call many of them Anti-War against both sides.
Tens of thousands rally around the world in support of Israel and Palestinians
About 100,000 turn out in London for pro-Palestine rally
Hundreds arrested as US Jews protest against Israel's Gaza assault
For some Jewish peace activists, demands for a cease-fire come at a personal cost
'Let Gaza live': protesters take over New York's Grand Central station
US campuses in uproar as Israel-Palestine conflict exposes divide
Anti-war protesters interrupt Antony Blinken at US Senate hearing
"And there shall be… upon the earth distress of nations, with perplexity; the sea and the waves roaring (protests)."

Luke 21:25
Extreme Weather
Water & Wind
Flooding and wind damage from typhoons, hurricanes and heavy rainfall caused damage across the globe. In India, at least 14 were killed and over 100 went missing from flooding caused by rainfall exceeding five times the normal amount fell in the North-East. The worlds third most powerful wind gust of 212.9 mph was recorded in Taiwan from Typhoon Koinu. The first Category 5 Hurricane to make landfall in the East Pacific caught forecasters by surprise when its rapid intensification took it from a tropical storm to a category 5 hurricane in a mere 12 hours. Over 100 people are dead or missing in Acapulco, with a long recovery expected for the tourist region.
India floods: 14 killed and 102 missing after lake overflows and highways washed away
Taiwan records world's third most powerful wind gust ever as Typhoon Koinu hits
Hurricane Otis' Category 5 'nightmare scenario' knocks out all communications in Acapulco, Mexico
Hurricane Otis: before and after footage shows scale of destruction in Mexico's Acapulco
Acapulco: nearly 100 dead and missing after Hurricane Otis, officials say
"And there will be great fear and trembling on the earth, and those who witness that wrath will shudder, and trembling will seize them. And after that, heavy rainstorms will come from the south and the north and another part from the west. And winds from the east will grow strong, and will reveal it…"

2 Esdras 15:37-39
"But as the days of Noah were, so shall also the coming of the Son of Adam be. For as in the days that were before the flood they were eating and drinking, marrying and giving in marriage, until the day that Noah entered into the Ark, and knew not until the flood came, and took them all away; so shall also the coming of the Son of Adam be… "

Matthew 24:37-39
Earthquake
Seven earthquakes hit Afghanistan, three of which were a magnitude of 6.3 localized near the city of Herat. Over 2,000 people were killed and thousands were displaced. Italy has been shaking from over 1,000 earthquakes in a month. They are fearing the eruption of a super-volcano could be next and therefore preparing for mass evacuations in the event one does erupt. A similar concern has been raised in Iceland, after 5,500 small earthquakes in a span of only three days.
Another Powerful Quake Hits Afghanistan, Days After Deadly Temblors
Afghanistan hit by seventh earthquake in eight days
Italy plans for mass evacuation as quakes continue around super volcano
Swarm of earthquakes in Iceland heralds next volcanic eruption
"For now disasters have come upon the whole world, and you will stay among them, for God will not deliver you, because you have sinned against him."

2 Esdras 15:27
"…there shall be earthquakes in diverse places…"

Luke 13:8
Solar Eclipse
An annual solar eclipse traveled across 41 of the US States treating the public to a rare celestial event. Many indigenous cultures have traditions surrounding both lunar and solar eclipses. From ancient times, people have looked to the celestial bodies as part of worship practices, omens, tribal traditions or just awe. Abraham recognized the ways of the people around him looked to the Sun, Moon and Stars as if they were gods. He recognized, that they were not gods, but the servants of God, the one true Creator of those celestial objects.
'Ring of fire' visible in parts of US as crowds gathered to watch annular eclipse
In many Indigenous cultures, a solar eclipse is for honoring tradition
"And in the morning when it was light and the sun shone on the earth as usual, Abram saw all the things that the Lord God had made on earth. And Abram said to himself, surely these are not gods that made the earth and all mankind, but these are the servants of God…"

Jasher 9:18-19
"And there shall be signs in the sun, and in the moon, and in the stars…"

Luke 21:25
Hypocrisy
Sexual abuse in Churches
Spain and Australia made this news in October with developments in the Roman Catholic Church Sexual Abuse Scandal. In Australia, a high-court ruled against the Catholic Church regarding strategies it had used to avoid abuse claims. Meanwhile in Spain, an investigation released their estimate that over 200,000 children were abused by Spanish clergy.
Catholic church loses landmark case over tactics that shield it from Australian abuse claims
Spanish Church sexual abuse affected 200,000 children, commission finds
"In the seventh week there will come priests; idolaters, adulterers, money lovers, arrogant, lawless, voluptuaries, pederasts, those who practice bestiality."

Testament of Levi 17:11
"Woe to you scribes and Pharisees, hypocrites! For you are like whitewashed tombs, which indeed appear beautiful outside, but are full of dead men's bones, and of all uncleanness. Even so you also outwardly appear righteous to men, but within you are full of hypocrisy and iniquity."

Matthew 23:27-28
"Beware of false prophets, which come to you in sheep's clothing, but inwardly they are ravening wolves."

Matthew 7:15
Caught in Unawares
"And take heed to yourself, lest at any time your hearts are overcharged with surfeiting, and drunkenness1"The serpents are the leaders of the peoples and their wine is their ways." DD 3:19, and cares of this life, and so that day comes upon you in unawareness. For as a snare shall it come on all them that dwell on the face of the whole earth, You watch therefore, and pray always, that you may be able to escape all these things that shall come to pass, and to stand before the Son of Adam."

Luke 21:34-36
---